Y Manufacturing?
We are in the midst of a manufacturing renaissance, especially in the Southeast. The Upstate has a seasoned workforce, however with the increase of new technologies and approaches to manufacturing including additive and robotics, the requisite skills needed in science and engineering have also increased. How do improve this knowledge gap? How do we get more interested in manufacturing especially the Y and Z generations? How do we tap into the large number of engineers in SC to help?
At our MESHSC event on Tuesday, April 19 our speakers, who are passionately advocating learning and advancement of manufacturing in South Carolina, will be addressing these questions and more. Both speakers will share insights into their organizational initiatives involving human capital development needs.

Jay Blankenship will share an overview of his role as Workforce Advisor for Greenville and the State Future Makers Initiative and implications to the future of advance manufacturing impact on South Carolina.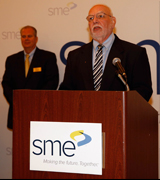 Dick Tiano, will be providing a presentation about "What is SME" and our ties to Advance Manufacturing. He will cover areas such as the Advanced Manufacturing media that is available, events we sponsor and support, membership and its benefits, the technical communities available, certification opportunities and he will wrap up with information and accomplishments for SME Chapter 430. Dick is currently the Chair of that Chapter.
We will wrap up our event with a crowd-sourced ideation engagement targeting involvement of manufacturing engineers and support from the Upstate SC.
Food and refreshments will be served.
About our Presenters